In 2018, the Friedrich Ebert Stiftung Trade Union Competence Centre (FES TUCC) and the Labour Research Service (LRS) published the first in a series of booklets aimed at providing researched-based bargaining support to unions. The first booklet, titled South African Multinational Corporations in Africa: Bargaining with Multinationals, provides a step-by-step approach to assist Global Union Federations (GUFs) and their affiliates in utilising company information when preparing for bargaining processes. As a follow-up to the first booklet, we published a guide on a series of terms which are used regularly in companies' Annual Reports.
Bargaining for Gender Equity booklet, the third in the series, takes a look at bargaining for gender equity in the workplace, providing a simple step by step approach to including these issues at the bargaining table.
Traditionally, trade union bargaining agendas have focused on male-biased priorities. More and more women are entering the workplace with a need to be organised and represented. If the union is not representing the interests of these women, the union is not representing almost half of the workforce.
When women workers are organised, the union needs to be able to represent the interests of these women. And by representing the interests of these workers, the union is better positioned to recruit and organise. This booklet aims to add to your practical knowledge of bargaining for gender equity, how to start and why this is important.
Collective bargaining must be used as a tool to promote equality in the workplace and address many of the entrenched misconceptions about the role of women workers. Collective bargaining is a powerful tool in addressing the gender pay gap and low pay.
The ILO lists several reasons why gender equality is important. Here are the most crucial reasons:
women's issues are union issues
women's contributions at work have been undervalued
women are making up a bigger proportion of the paid workforce
women's concerns have traditionally been overlooked in collective bargaining
women may not be adequately covered by the law, and even where there is legislation, it is not always implemented practically
it addresses some non-pay issues that may be easier to bargain in difficult economic times
it is a means of attracting women to the union – it shows the union is committed to women
The booklet provides a step by step guide on how to approach bargaining for gender equity in the workplace.
Step One involves asking important questions like what issues affect the female workers in the workplaces, what number of workers are affected by these issues and if gender equality is supported by collective bargaining in the workplace.
Step two moves on to help unions determine the critical issues for consideration, including work-family balance, transport, affordable care, equal pay and the elimination of discrimination.
Step three is to bargain and implement. Union participation is essential to eradicating violence and harassment and in changing the workplace to represent the interests of all workers. Unions should innovate, organise, fortify their structures and bring the labour rights of all workers – men and women – to the collective bargaining table. They should do this from a human rights perspective that guarantees workers' dignity.
The ILO suggests some helpful steps in the ongoing fight for equal rights:
Promoting gender equality in employment doesn't end with the signing of a collective agreement. Follow up to ensure the awarded rights are implemented.
Ensure that the negotiated policies, rights and benefits are communicated to all workers, including non-permanent workers.
Collect data regularly to monitor the number of women and men that are hired, promoted and dismissed, as well as the number of workers in all job categories, salary levels and training programmes.
Regularly monitor the implementation and effectiveness of collective bargaining policies, rights and benefits. Think forward to what can be achieved during the next round of collective bargaining.
Deal with equality issues in education and training programmes.
Publicise the work your union has done on behalf of women as an organising strategy. Also, publicise the union's objectives for bargaining and the strategies for achieving them.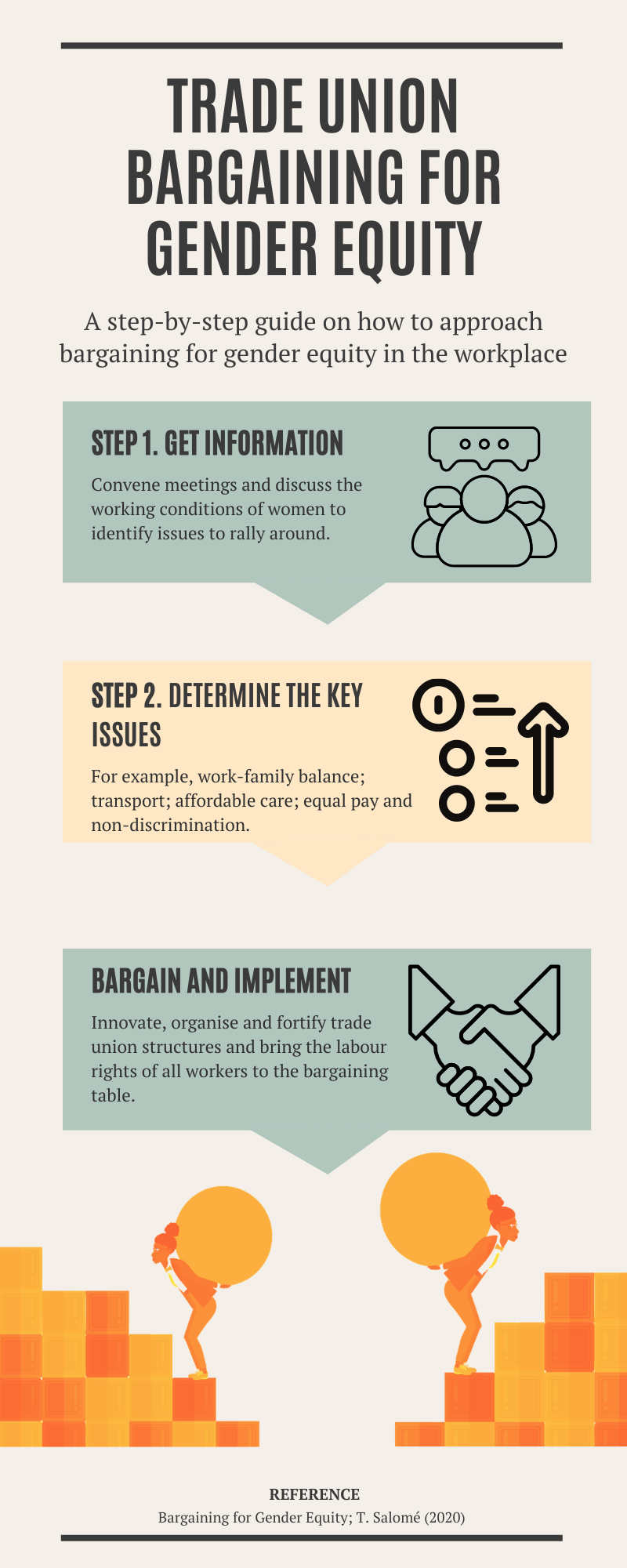 Bargaining for Gender  Equity booklet