Gender activists in trade unions have limited exposure to addressing LGBT+ rights as part of their gender equality mission. Consequently, activists struggle with their homophobic attitudes and behaviours and are not equipped to support LGBT+ workers and job seekers who face discrimination and harassment at the workplace. The Covid-19 pandemic exacerbated violence and harassment toward LGBT+ workers and job seekers. Trade union leaders responsible for gender equality and social justice programmes want to safeguard and advance the existing rights of LGBT+ workers.
The Labour Research Service (LRS) supports the efforts of trade unions to build inclusive and safe workplaces where LGBT+ workers feel free to claim their rights. We focus on creating environments that encourage different groups to come together and explore common ground to facilitate individual change in consciousness and behaviours. We profile the LGBT+ rights work to a broader audience through our online platforms and engagements with international solidarity partners and the media.
The LRS offers face-to-face and online mentoring support to gender coordinators in the trade union movement to advance the agenda of protecting and supporting workers who are LGBT+. The gender coordinators have kept LGBT+ rights as a topic of discussion in our unions. They have also worked to influence policy and resource allocations in their organisations
Gender activists in federations have recognised and challenged their heteronormative behaviours and practices and are committed to advancing LGBT+ rights in the workplace and among affiliates.
Workers who are LGBT+ feel safe, secure and empowered in the trade union, workplace and when seeking employment.
An inclusive trade union gender programme that includes LGBT+ rights. COSATU and FEDUSA developed research resources on LGBT+ issues and rights to ensure gender coordinators and negotiators were prepared for collective bargaining conferences in 2021.
FEDUSA adopted a LGBTIQ+ resolution to strengthen advocacy for equity and inclusion in the federation and among affiliates.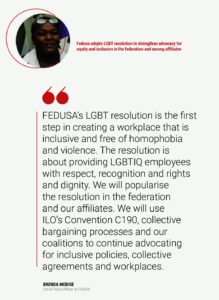 FEDUSA's LGBTIQ+ resolution
In this video, FEDUSA's Social Policy Officer, Brenda Modise, speaks about the federation's efforts to popularise its LGBTIQ+ resolution, as well as the lessons learned in promoting the rights of workers who are LGBTIQ+.
Takeaway resource: Workplace rights belong to everyone | Negotiating for inclusivity and against discrimination