Trenton Elsely, Commissioner of National Minimum Wage Commission, speaking at the Decent Standard of Living 2019 Colloquium in Johannesburg. Trenton is Executive Director of Labour Research Service.
Is the national minimum wage still relevant amid the covid-19 economic downturn? 
The national minimum wage established a minimum floor below which wages should not fall. About six million workers in sectors that are generally characterised by low levels of wages and organisation, including agriculture, domestic work, private security, contract cleaning and taxi industry, would benefit from it. I am of the view that an instrument like the national minimum wage is most relevant during a crisis as a measure of protection for the lowest-paid workers in our economy. Some people would be looking to do away with it in the name of aiding economic recovery. But the national minimum wage is not one of the many possible economic recovery tools at our disposal. Why should the very lowest earners be automatically the ones to bear the brunt of some economic easing directed at them? We also saw the influence of the national minimum wage in the setting of R3,500 as the minimum compensation through the UIF Covid-19 Temporary Employer/Employee Relief Scheme. That benefit was the appropriate response to the crisis and not lowering the wage floor.
What considerations did the National Minimum Wage Commission make while reviewing the minimum wage for 2021? 
After a long process through the National Economic Development and Labour Council (NEDLAC), the National Minimum Wage Act was promulgated on the 1st of January 2019 to address poverty, unemployment and wage inequality. In section 6 of the National Minimum Wage Act, the National Minimum Wage Commission is required to undertake an annual review of the minimum wage and propose adjustments to the Minister. 
Wages need to adjust with inflation otherwise their real value decreases over time. In the first review in 2020, the national minimum wage had a very modest inflation-linked adjustment amounting to R130 per month. Farmworkers got an increase of R117p/m and domestic workers less than R100 p/m, or 57 cents an hour. In 2021 we proposed an increase of 4.5%, which was the highest possible benchmark within the inflation paradigm. Farmworkers who were at 90% of the national minimum wage are now equalised and got a 16% increase, which amounts to R500 per month. For domestic workers, we reached a majority position of a two-step equalisation process in 2021 and 2022. This year domestic workers moved to 88% of the national minimum wage, which amounts to R600 per month, or a 22% wage increase. In 2022, the wages for domestic workers will be equalised with the national minimum wage at which point, except for the Expanded Public Works Programme, we will finally have a truly national minimum wage.
The increases were significant in the current context and particularly for domestic and farm workers. Achieving equalisation of wages is an important process that has a social value attached to it. It says that this is valuable work. It tells workers that they are part of a social norm and part of where we have situated the minimum wage in South Africa.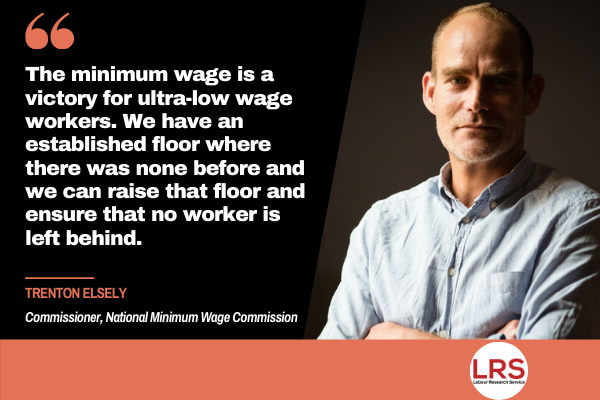 How is the national minimum wage determined?
The social partners at the National Economic and Development Council (NEDLAC) considered the median wage, which is an accepted international benchmark for setting national minimum wages. The national minimum wage was set close to the median wage in South Africa, and this follows the practice adopted by a number of other countries. When we talk of a median wage of R3,500, it means that half of our population earns around that level or more, and the other half earns around that level or less. So the national minimum wage is a regulated minimum that approximates the median and not a living wage. It does not relate to what a household, family or individual requires to live a decent life. There are differing opinions on whether the minimum wage is too high or too low. My view is that the minimum wage, although set low compared to what it costs to live a decent life, is a victory for ultra-low wage workers. We have an established floor where there was none before and we can raise that floor to ensure that no worker is left behind. 
The Commission has the job of investigating and making available information on the impact of the national minimum wage on the economy, collective bargaining and the reduction in income differentials. As such, our initial effort was getting empirical evidence on the effect of introducing the minimum wage. Having evidence of what has actually happened is important for future reviews of the national minimum wage.
Is it possible to effectively enforce the minimum wage and considering the massive budget reduction for CCMA? 
The Conciliation Commission for Mediation and Arbitration (CCMA) has a major role in implementing the national minimum wage. The CCMA budget cut could affect the enforcement of the minimum wage because the consequences of not complying may not be as easy to enforce as they were before. We hope the work of the CCMA will normalise over time. Non-compliance with minimums is historically widespread in South Africa. But this is not an argument for saying that measures like sectoral determinations and the national minimum wage don't work.
The first step in the process of enforcing is to establish a norm. A regulated norm can over time become a social norm once we start policing it ourselves. Take the example of domestic workers who for some time lacked sectoral determination and benefits. Then a sectoral determination came in and there was a discourse on how it would decimate the sector, which it didn't. Instead, the sectoral determination established a new norm and over time we have seen more domestic workers registering for benefits like UIF and also successfully challenging the constitutionality of Compensation for Occupational Injuries and Disease Act (COIDA). That happened incrementally through establishing a new norm and backing it with actual legal sanctions and consequences. 
But the reality is that compliance isn't achieved simply through inspecting and inspectors. Compliance has to be more multi-directional. Compliance follows the building of new shared social values or norms. Societal values like equal pay for women and not having corporal punishment of children become entrenched norms when all the different social actors collectively start to monitor and contribute to compliance, despite sometimes weak legal enforcement mechanisms. An entrenched social norm means that it is a shared value in a community or other grouping and non-compliance is viewed with animosity. Trade unions have an important role to play in promoting enforcement by highlighting non-compliance where they come across it.
Know more about our history of participating in the minimum wage debate in South Africa.