Volunteer Food Handlers and LRS press conference in November 2022 | A priority for this group of ESP is to have their role made visible, recognised and valued.
On 16 May, teachers' unions around the world celebrate the contribution of Education Support Personnel (ESP) to quality education.
ESP are non-teaching staff who work in educational institutions to provide various types of support.
Affiliates of Education International are recognising and highlighting these essential workers in school communities on World Education Support Personnel Day. The global union federation issued a declaration on the rights and status of ESP, calling for them to be given decent jobs.
ESP  face many issues in the workplace. Some of the issues include
Low wages: Many ESP positions are low-paying, despite the essential services they provide to schools.
Lack of recognition: ESP often feel undervalued and under-appreciated, yet their work is crucial to the functioning of schools.
Heavy workload: ESP can have multiple responsibilities, which can lead to a heavy workload. For example, cleaners may have to clean several classrooms in a short period of time, while food service workers may have to prepare meals for hundreds of students.
Health and safety concerns: ESP may face safety issues in the performance of their duties. For example, drivers may have to navigate dangerous driving conditions, cleaners may have to work with hazardous chemicals, and food handlers may have to carry heavy pots and pans, work in poorly ventilated kitchens and face violence and harassment.
Inadequate resources: ESP may not have access to adequate resources and tools to carry out their work effectively.
Limited opportunities for career development: ESP may have limited opportunities for career advancement and professional development.
How unions can support ESP
Trade unions are concerned with the rights and welfare of all workers in the workplace. Unions can provide a wide range of support to education support personnel, including:
Collective bargaining: Unions can negotiate with employers on behalf of ESP to improve working conditions, pay and benefits. By bargaining as a group, ESP are more likely to achieve better results than if they bargained individually.
Legal support: Unions can provide legal support to ESP who face problems such as discrimination, harassment or unfair treatment in the workplace. They can also provide support during contract negotiations or other disputes with employers.
Advocacy: Unions can advocate for policies and legislation that support the interests of ESP, such as greater recognition, respect and appreciation of their roles, better working conditions and stronger labour protections.
Networking and community building: Unions can help ESP build networks and links with other workers in their field, as well as with other unions and community organisations. This can help ESP stay informed about issues affecting their work and build solidarity with other workers.
Political action: Unions can mobilise ESP to take political action, such as contacting elected officials, organising rallies or protests, or participating in lobbying to support policies that benefit ESP.
CASE STUDY: Building a campaign to recognise and value the work of Volunteer Food Handlers in South Africa
In South Africa, ESP cover a wide range of roles, including teaching and administrative assistants, cleaners, security guards, maintenance staff and food service workers. Job security is a major concern for many workers. For example, Volunteer Food Handlers employed under the National School Nutrition Programme (NSNP) work on short-term contracts, which can leave them without an income or access to workers' benefits such as the Unemployment Insurance Fund (UIF).
The more than 60,000 workers who cook and prepare meals in schools across the country are classified as 'volunteers' and paid a stipend. The term 'volunteer' implies that the worker should not be paid because their work is a social responsibility. This means that Volunteer Food Handlers do not have the rights of employees as set out in the Labour Relations Act (LRA). A priority for this group of ESP is to have their role made visible, recognised and valued.
The empowerment work of the Labour Research Service with a core group of Volunteer Food Handlers in Gauteng has highlighted the important role of a food handler and the challenges that they face. Volunteer Food Handlers recognise their vital role in the school community, but do not feel valued by NSNP stakeholders. With our support, food handlers are organising themselves. They raise concerns about their working conditions using a range of advocacy tools (see video and song). They engage with the school community, NGOs and trade unions.
READ: A discussion paper for trade unions on Volunteer Food Handlers
As a result, the South African Democratic Trade Union (SADTU) is seeking to bargain pay and conditions of service of food handlers with the Education Labour Relations Council and the Public Service Co-ordinating Bargaining Council.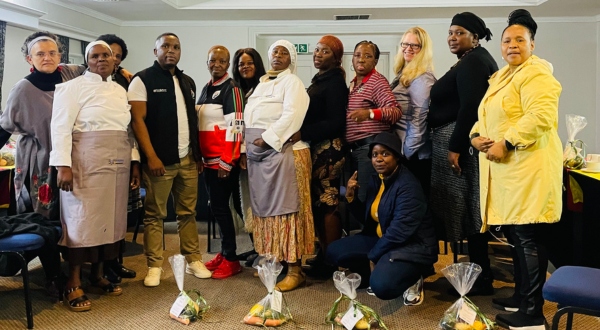 A trade union dialogue with Volunteer Food Handlers to build  a campaign for advocating for decent jobs | Johannesburg (2022)
SADTU's support for Volunteer Food Handlers to have decent jobs is an example of how a union, as a key player in the school community and in government consultative spaces, can help to represent the interests of Education Support Personnel.
Educational International launched and celebrated the first World Education Support Personnel Day on 16 May 2018.
Know more about our work seeking to connect and support Volunteer Food Handlers in the National School Nutrition Programme to have their jobs made visible, recognised, valued and remunerated.