South Africa's public sector wage negotiations for 2023 have been dominated by union demands for wage increases, as workers' salaries have not kept up with the rising cost of goods and services. Unions representing the majority of public servants accepted a government offer of a 7.5% wage increase after strike actions. The salary adjustment will take effect in the 2023/2024 fiscal year, according to the multi-year collective agreement. But what does a three per cent wage increase mean for the lowest-paid worker? The current average basic wage for salary level 1 is R9035.62 per month in 2021. If we add the 3.3% wage increase, it translates to an increase of R298.17 per month. The new average basic wage after the increase is R9333.79 per month in 2022. This translates to R3 578.04 per year.
Price inflation
When analysing workers' pay, it is important to compare it with inflation and the cost of living. The public service wage increase was higher than the government's initial offer. However, it's important to note that the increase is only 0.5% above the current rate of inflation. In reality, the increase will not really improve the living standards of workers, especially those at the bottom of the pay scale. Other factors can eat into wage growth. For example, the cost of living is rising, but workers' wages have not kept pace. With inflation currently at 7%, public transport inflation at 15.8% and
basic food prices up
11.6% year-on-year, households are feeling the pinch. But those are not the only things rising. In 2023 there will be a 5% increase in contributions to the Government Employee Medical Scheme (GEMS). Increases in contributions to the GEMS from 2020 to 2022 were 7.7%, 4% and 9.5% respectively. Put simply, these increases mean that public sector workers will continue to have a hard time making ends meet.
Wage increases, average inflation and real wage increases | 2018 – 2023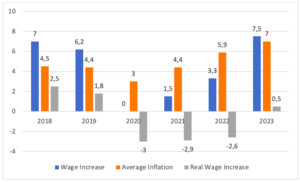 *The graph shows that workers became poorer from 2020 to 2022
Pay gap
In 2022, ministers and deputy ministers received monthly increases of R6,000 and R4,945 respectively. By contrast, lower paid public sector workers received a 3.3% increase, or R316, or a salary of R9,596. It's worth pointing out that there is more than one inflation figure and that different groups, from the very poor to the rich, can experience different rates of inflation because they buy different things. For example, in the
inflation statistics for February 2023
, the very low spending group (decile 1) experienced an inflation rate of 10.8%, which was higher than the headline annualised inflation rate of 6.9%. The very high spending group (decile 10) experienced an inflation rate of 6.3%, which was 0.6% lower than the inflation rate.
Some things unions can do now
Strengthen solidarity and alliances in the movement
Renew strategies for collective bargaining
Restore workers' bargaining power
Rejuvenate the membership
RELATED ARTICLES