Preparation is an essential phase in the collective bargaining process. Preparation helps you to deal with the issues and challenges that arise. You will already have the information you need and have thought through different solutions as a negotiating team.
One of the key points in our negotiator's checklist for preparing for bargaining is to gather information and do research. Negotiators can do this using the LRS Bargaining Benchmarks report.
You must to gather information that will help you to understand the collective interests of the members who are represented by the union. When gathering information there are two questions you need to ask yourself: What information can I get on my own? What information do I need from others?
Information gathering: What information do I need from others?
Some research questions
What facts and figures can help you motivate your demands?
What experiences can you quote that will support your case?
Are there laws, regulations, agreements or precedents that might assist?
What other factors in the environment might affect your case?
What are the likely reactions of your negotiating counterpart?
Where is your opponent weak and where are they strong?
Where are you weak and where are you strong?
Where are your opponent's decisions taken?
Who are your potential allies and supporters?
But negotiators often have very few resources to assist them with preparing for bargaining processes at company or sector level. There is very little information on wages and other key indicators in the public domain and trade unions have limited scope to buy the information that they might need. Also, much of the information that is available is not in a form that is easily understood by negotiators.
The LRS Bargaining Benchmarks provides union negotiators with some of the benchmarks needed to enter the bargaining process as informed role players.
Get your copy: Bargaining Benchmarks | March 2023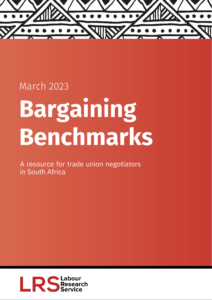 RELATED RESOURCE: