Every negotiation, whether in the informal or formal sector, in a small organisation or a multinational corporation, will go through the four phases of collective bargaining to a greater or lesser degree.
In this video, Organiser at African Reclaimers Organisation (ARO), Louis Mahlangu, speaks about the bargaining experience of the organisation. ARO is the first organisation of recyclers in South Africa to unite workers in landfills and streets.
Who are the waste reclaimers/pickers?
We are individuals trying to make an honest living to care for our families. We travel very far by foot every day to collect and recycle waste. Our full carts can weigh more than 200kg. Our work is tedious and dangerous. The majority of us are good people. We work very hard. We work for long hours. Our earnings are very little.
Why is the job of a waste reclaimer important?
The waste reclaimer's job involves extracting discarded items that would normally end up in landfills and the environment.  We sell to buy-back centres for recycling. Municipalities save more than R780 million in landfill airspace. This amount excludes savings on waste removal trucking and fuel. Up to 90 % of all material recycled in South Africa is due to the efforts of reclaimers. 
What would recognition of reclaimers by industry and society look like?
What we are doing is work and it should be recognised as such. Recognition means:
paying fair prices for the materials that we reclaim
paying for the currently unpaid labour of sorting and transporting materials.
giving us the kind of infrastructure that will add more dignity and more efficiency to our work, allowing us more time with our families. At the moment we work up to 10 hours a day.
giving us the dignity that we deserve.
What are the demands for ARO?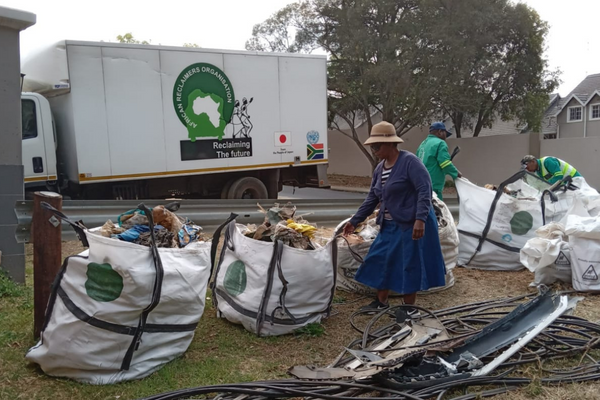 We expect to be paid by industries and the government for the material we collect and the services in cleaning the environment. Industries are the owners of materials that end up at landfill sites. The government benefits from our huge labour contribution to cleaning the environment. About 15 000 reclaimers in Johannesburg collect up to 80 kilos of recyclables, or hundreds of metric tonnes of material that would normally go into landfill sites. 
RELATED  VIDEO: How to conduct an effective bargaining process –  CEPPWAWU's plan for representing workers in chemical, energy, paper, printing, wood and allied sectors.