Our Future of Retail in Africa study looks at the potential changes and challenges in the sector and provides trade unions with potential responses to some identified changes. For this research study, I spoke with Vasco Mainza, Regional Chairperson of the National Union of Commercial and Industrial Workers (NUCIW) in Zambia, to find out how new technologies have affected jobs and workers in the sector. Zambia's wholesale and retail foods market is dominated by foreign supermarket chains, including South Africa's Massmart, Shoprite and Pick n' Pay.
Do you see any changes in your day-to-day life working in retail that are due to new technologies?
Yes, so many changes have taken place in the last few years.
What are these technologies? Do they make retail work harder or easier? How are they affecting workers?
My Zone booth: an employee has the chance to learn anything about every department in the company via this platform, electronically.
Ordering System: Depending on the rate of sales, the system can suggest orders on its own for some suppliers.
WorkForce Management system (WFM): Employees are now using their fingers to clock in and out whenever they report for work or knock off. So convenient, and biometric. It has lessened unnecessary work that management had to do before.
Stocktaking System: Our current system is so involved when it comes to counting and fast in getting to know the stocktake results – the results come out almost immediately.
What has changed about your job in the last 5 to 10 years?
A lot of things have changed and simplified. An example is the hourly sales: the system shows how much money you make per hour daily. So it can help you plan and for example, show you which time of day you need more cashiers. In other words, the technology enables Shoprite to keep improving systems. Initially, we had the Operating Better Stores system (OBS), now we have what we call COR3. This has come along with elements of Biometric, SAP, and other related technologies.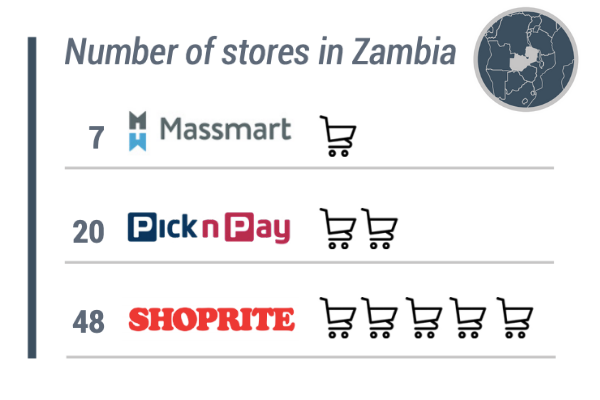 How have you seen retail work change over the last 5 to 10 years?
There is an increase in the dependency of merchandisers (workers employed by suppliers). They do a lot of work in Shoprite stores, yet their conditions of service are compromised as they do not have permanent contracts from their employers. Conversely, Shoprite permanent employees' numbers keep on dwindling.
What are you scared of changing in the work environment?
Whether we like it or not, technology is slowly taking over much of the work done by people. 
Has staff scheduling affected retail workers in your Zambia? 
Flexi timers have been hit hard in terms of scheduling. They are paid according to the hours they work – more hours translates into more money. They are no longer working abnormal hours because the system tells them when they should be needed for work.
Has automation affected retail workers in your country?
To begin with, the effects of automation are so devastating to the retail employees and any other sector we may think of. Currently, we don't have shops with facilities for self-service in Zambia. However, Shoprite introduced online buying after the pandemic of COVID-19. And so far it looks like it is working well. A good number of people/customers is taking advantage of this arrangement under the new normal. In other sectors, such as banks, it is evident that the effects of automation are quite dangerous.